This is a great article that highlights high-tech manufacturing on the Cape, and features Richards Design Inc. It was originally heard on WCAI NPR radio, and can be listened to here.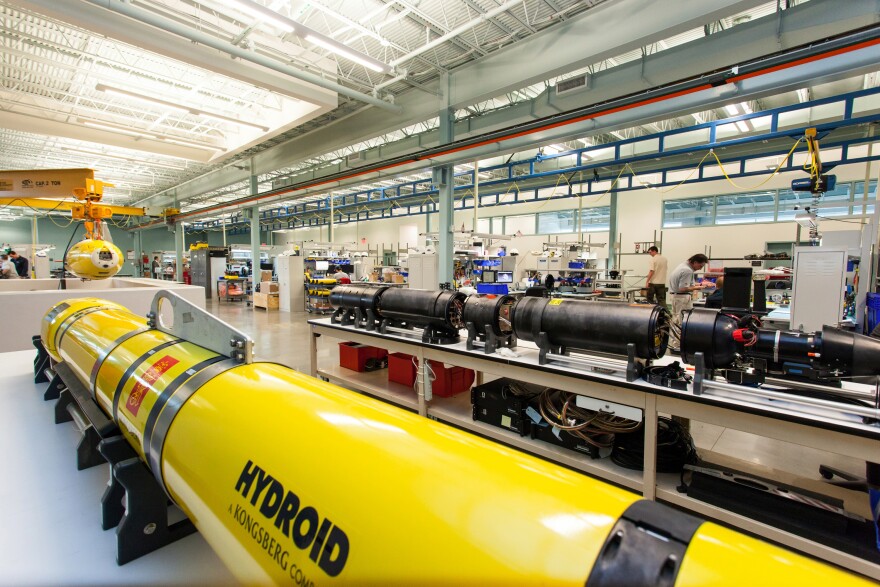 Lined up on the manufacturing floor of the Bourne-based company, Hydroid, the underwater robots look like torpedoes, with tail fins and rear propellers. They're different sizes, some six feet long, others more than double that length. The biggest one is painted a bright yellow submarine color, while the smaller ones are dark gray with black, so they're less easy to see when underwater.
"Two-thirds of our business is with the US Navy," said Hydroid president Duane Fotheringham. "We're also in 17 navies around the world. "
Hydroid is an underwater robotics company that's experiencing tremendous growth – growth that's trickling down into the Cape's economy.
"The primary use for our equipment is mine countermeasures," he said, "so it takes the men out of the field. So instead of putting people in there or ships into the minefield to do minesweeping and mine detection, you can use robots to do that dirty work instead."
The robots are called Remus, and they cost anywhere from $200,000 to multiple millions, depending upon what it does. They're fully autonomous robots. You program them and put them in the water, where they swim about and perform their mission, whether it's mapping the ocean floor or hunting for mines. 24-to-72 hours later, they come back with their data.
"The vehicle that we're standing here in front of is used for mine countermeasures," he said. "It has a side-scan sonar, that is the primary instrument for looking for mines. It also has a doppler velocity log to measure its speed through the water and over the ground. And it also has a communication antenna so when its on the surface it can communicate through wifi and get GPS fixes."

You can hear the CHIRP, CHIRP, CHRIP sound that the vehicle makes when it's transmitting it's data.
"Radio frequency doesn't work below the surface under the water, so everything is acoustic," he said. "So what you are hearing are acoustic communications that a vehicle would have with a transponder or with the surface."

Hydroid is one of several companies on Upper Cape Cod that makes things for the oceanographic industry. It's what economic development people call an 'advanced manufacturer' — they're producing complex products that overseas competitors are unlikely to build because of the quality needed, or even the timing. These are exactly the types of companies the region wants to attract.
Hydroid's robots first were developed at the Woods Hole Oceanographic Institution, just down the road.
"Several engineers there created the Remus technology," Fotheringham said, "and Hydroid was created to commercialize that technology. So we've been in business now for 13 years. And we've grown from two employees to 145 employees now."
Hydroid hired 87 people last year, most of them trained in engineering or robotics. Fotheringham says a key factor in deciding to stay in Bourne was the ability to expand to meet demand.

"There's a strong (oceanographic) industry here," Fotheringham said. "We are one of the few companies that are manufacturing in large scale on the Cape, so we went through a lot to get a manufacturing facility here on the Cape. But we had a lot of cooperation from the town of Bourne and the Cape Cod Commission in order to get a new facility. So we put of the 40,000 square-feet facility that is dedicated to the manufacturing and engineering of marine robotics."
Wendy Northcross of the Cape Cod Chamber says efforts are starting to pay off in the push to bring more advanced manufacturing to the Cape. In recent years, the Cape Cod Commission, which oversees development and land use, has identified specific locations where environmental impacts could be kept to a minimum. Now it's promote those business-ready sites to high-tech companies that could best support the regional economy.
"In some cases you're really inventing something on the computer and you're designing the schematics and you're having certain pieces of it outsourced," Northcross said. "Hydroid, for instance, has some of its aluminum metal work is done at other facilities."
All of Hydroid's aluminum work is outsourced to local machine shops, including Richards Designs in nearby East Falmouth, where owner/operator Bob Richards looks through a small window as a hand-sized piece of metal is doused with coolant while it's drilled, flipped and then drilled again.
"He just started that part there." Richards said, "You'll see it spot drill on the parts, probably do 4 sides, then the tool will come up and get changed to another tool. 'You got a part, Larry, that I can look at? You need a TV camera!"

Metal fabricators and machinists jobs aren't all that uncommon. Metal parts run the world, and Richards has been at this work for 40 years, 20 of them on Cape Cod, where his success is linked to companies like Hydroid, and oceanography equipment maker, Teledyne Webb Research in North Falmouth.
"The oceanographic industry, they really can't go to China for this stuff, because they all want stuff for next week, or the week after or tomorrow."
Richards says even after expanding into a new building a few years ago, he's maxed out. He keeps about a dozen people employed, and he can't take on much more work. At the same time, if he lost a major oceanographic account like Hydroid, he says he likely would have to lay people off. But that's unlikely. Fotheringham says robotics and ocean science-related work is only expanding.
"It came from its infancy 10 years ago when it was very much in the scientific and small-user community. But now it's moved much more in the mainstream use."
While advanced manufacturers like Hydroid tend to generate work for other local manufacturers — businesses like Richards Designs– the reality is that small businesses of four or less employees still make up the great majority of the Cape's economy. There are only about 80 businesses with more than 100 employees on the Cape. But every job, like every businesses, ripples through the local economy, and local economic development people hope the region will continue to attract and benefit from the most advanced types of manufacturing.